Frames Renewables has successfully completed the installation of the infrastructure for the Hydrogen refueling station at Green Planet, Pesse (NL). We have also performed additional services such as strength and leak testing, pre-commissioning, purging and drying to the full satisfaction of our customer and the Inspection Authorities.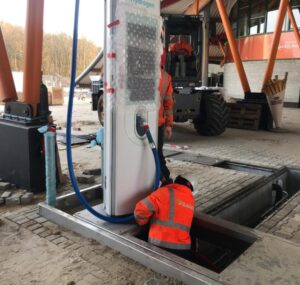 Frames Renewables has been well known for the design and delivery of its plug & play systems and packages, and now a full service team is also at your disposal for fieldworks as well. We have all the tools, skills and competencies in house to install your high-pressure hydrogen gas lines, utilities, cabling and all that is required to safely realize your hydrogen refueling station. We can also provide a turn-key solution.
"I am very pleased with the professional attitude, pragmatic approach and flexibility that Frames showed to complete this job successfully" says Edward Doorten, owner of Green Planet and initiator of the hydrogen refueling station.
Safety, efficiency and pro-active problem-solving is what makes us unique. At Frames we have been finding solutions for energy challenges since our inception, taking into account the most strict safety and quality requirements. Do get in touch with Frames if you are thinking about realizing your hydrogen refueling station. We've got you covered!